Centrepoint
Case Studies / Space profiles
SPACE PROFILE
Name of Space: Centrepoint
Mission – Sea-to-Sky Community Services: "With care, consideration and professionalism, we strive to enhance the quality of community life by providing support services to individuals and families living in the Sea to Sky Corridor, including providing affordable housing to low or moderate-income individuals and families. We believe all individuals have the right to meaningful work, affordable housing and support in times of crisis and to meet everyday challenges."
Mission – Squamish United Church: "To be an inclusive community caring for God's World"
Rent/Lease/Own: Ownership via Strata Corporation (Sea-to-Sky Community Services, Squamish United Church and BC Housing applies to land and building/improvements)
Address: 38024 Fourth Ave, Box 949, Squamish, BC, V8B 0A7
Building Size: 41,246 sq/ft
Year Opened: 2017
Space/Facility Type: Office, Institutional; Faith based; Community Facilities, Residential Non-Market Housing, Multi-Functional
Organizational Type: Registered Charities
Space/Facility Use: Community/Social Services, Non-Market Housing, Childcare; Education, Space Provider/Developer
Programs/Services Delivered: Worship services, day care and parenting/family programs, help for children with additional needs, childcare resources, support for adults with development disabilities, counselling/support programs, space for community use and rentals, commercial kitchen and kitchenette, offices, 32 affordable rental apartments (affordability as defined by CMHC and Provincial Housing Income Limits).
Website: www.sscs.ca
---
CASE STUDY
---
Synopsis
Centrepoint is one of the first BC-based examples of a non-profit community group working with a land-owning faith-based organization to realize a new co-located facility delivering a range of faith and community programs. This sustainable purpose-built, mixed use facility is occupied by Sky-to-Sea Community Services (Sea-to-Sky) and the Squamish United Church (Church), with 32 affordable rental housing units–15 owned by BC Housing. Located in downtown Squamish, the ½ acre (5 lot) site was the former home of two Squamish United Church buildings, one of which was demolished, the other retained and incorporated into the new development.
Exterior - Former Church - Retained in New Development
Photo Credit: Sqaumish United Church

Opened in the Spring of 2017, the new development maximizes co-location opportunities through shared space including meeting rooms, offices and commercial kitchen, as well as delivering individual spaces for the Church congregation, daycare, affordable housing units and Sea-to-Sky programs and services. The Church sanctuary serves both the congregation's needs as well as general activities of the community.
By co-locating in Centrepoint, the Church and Sea-to-Sky have reduced operating costs, amalgamated program spaces, increased operational effectiveness, enhanced their missions and mandates through new space and services, and added much needed affordable rental housing for the Squamish community.
Success was achieved in large part due to the focus on cultivating a trusting partnership between organizations with a shared vision and motivation for long term value/impact. The Centrepoint project leveraged land owned by the Church, fundraising and organizational capacity of Sea-to-Sky, and financing by BC Housing and Vancity Credit Union.
Exterior - Front Offices
Photo Credit: Jillian Brown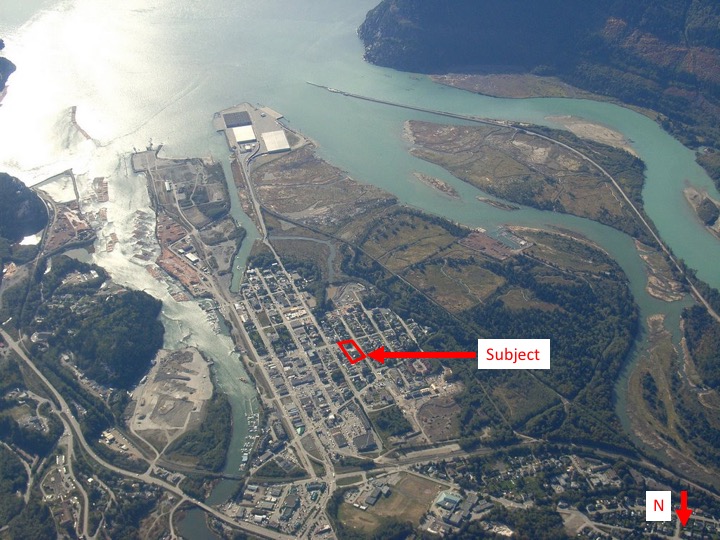 ---
Concept & Need
With an aging congregation, an underutilized facility in a prime location, and working capital generated by the sale of a redundant asset, the Squamish United Church begin thinking about repositioning and modernizing their real estate assets in the mid 1990's. The project impetus was to advance their core mission and relevance in the growing Squamish community, while also staying in the downtown core where the Church's roots began.
In collaboration with Sea-to-Sky Community Services, a new purpose built, mixed use, shared facility exists. Centrepoint has added, and will continue to add, financial and social value for these organizations and the Squamish community for years to come.
Sea-to-Sky Community Services, who had always leased space prior to moving into Centrepoint, had an ambition to grow their impact with the expanding needs of the Town of Squamish. However, the organization did not own property and was burdened with operating inefficiencies caused by an ad hoc space arrangement of services spread across multiple locations. Consolidating their operational footprint was a key goal.
"When Sea-to-Sky started, the organization was always leasing [space for our programs]. We rented the old court house but didn't own anything. This project got us got very excited and determined. It was a once in a lifetime opportunity when someone offers you the land to make a dream happen." – Lois Wynne, Sea to Sky Community Services, Former Executive Director
The vision for Centrepoint took well over a decade to materialize from abstract concept, to commitment, planning and design, construction, move in, and stabilized operations. Squamish United Church first approached Sea-to-Sky Community Services about the idea through mutually shared connections–several citizens were involved with both groups in various capacities. Sea-to-Sky initially wasn't ready for such a project, having little working capital, but was still very interested in the opportunity. It took several years for the right mixture of human, social, and financial capital to come together for Sea-to-Sky to agree that it was possible and prudent to proceed. The key to securing commitment to proceed by decision makers in both organizations, was an understanding that their core mission statements were very closely entwined.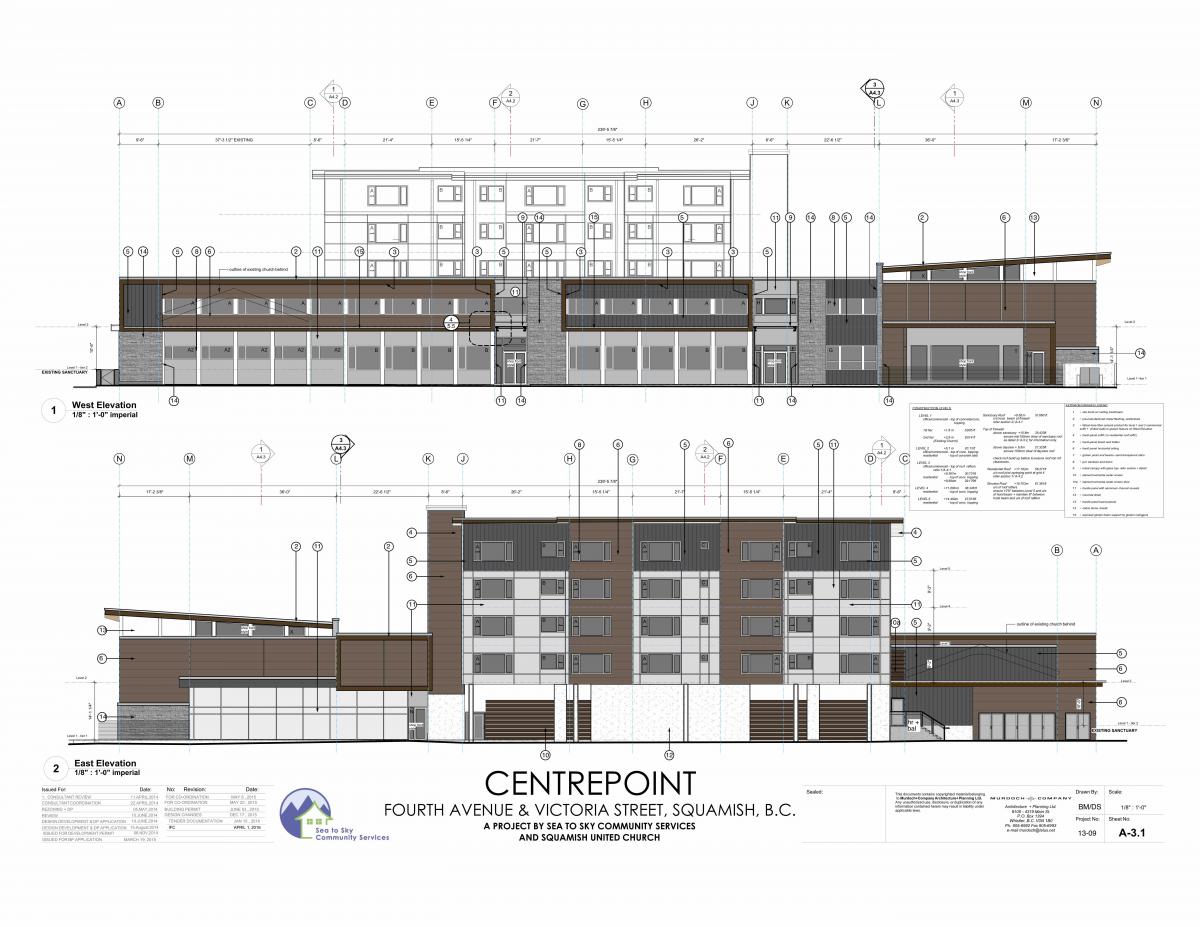 "Our mission is [to build] an inclusive community. It's all about making our local community and world better, enlivening and helping people grow. This [goal] was aligned with all of the goals of Sea to Sky Community Services. There are lots of other congregations in similar circumstances [to us]. People can be afraid of the faith-based component, but what does that actually mean [in a collaborative project]?" - Rev. Karen Millard, Squamish United Church
Each organization brought complementary resources to the table. Sea-to-Sky had strong management capacity, ability to carry mortgage obligations and was able to fundraise from the community at large. The Church owned the land asset, had start-up funds, and held an inherent drive to creatively increase their relevance and involvement with the needs of the evolving local community.
Early in the project planning phase, an opportunity arose to secure BC Housing's support and add a residential component to the project. This was acted on and BC Housing thru their New Build Construction Program (grant, equity, and debt financing incentives for creating non-market housing) became a key piece of the project.
Exterior - Residential Units
Photo Credit: Jillian Brown
"This is a very holistic building – day care, counselling,… it speaks to the needs to people at all levels of life, when we focus on commonalities we discover it's ok [to share]. We have great working relationships that are straight up and honest. We figure out how we are going to work together and express honest concerns as we go into a project like this. We all work together really well right now. As new people come in, there is need to share our history and vision." - Rev. Karen Millard, Squamish United Church.
Although a formal needs assessment was not completed for Centrepoint, the partners had a history of working deeply in the community and participating in its evolution—because of their roles, both partners had a high degree of awareness around the needs of their citizens. It might be said that project was born out of opportunity. The opportunity to replace aging Church facilities; the opportunity and need by Sea-to-Sky to centrally consolidate offices for efficiencies and cost effectiveness, and the opportunity presented by the New Build Construction Program.
---
Partnerships & People
Centrepoint Committees, Advisors, Consultants:
Joint Building Committee: Lois Wynne, Tracey Kliesch, Shawn Jones, and Liz Wood for Sea-to-Sky; Peter Gordon, Ken Tanner, Bert Lonson, Karen Millard, and Louise Martin for United Church
Early Stage Feasibility: Waller and Company
Sea-to-Sky Transition Team (moving): Lisa Brickell, Estelle Taylor, Dennis Smith, and Lois Wynne
Development Manager/BC Housing Component: Casey Clerkson, CPA Developments
Architect – Initial Squamish United Church Concept: Vaughan Hoe
Architect – Function Program: Don Nicolson, Nicolson Tamaki
Registered Architect – Technical Drawings: Murdoch & Company Architecture & Planning Ltd.
Construction Manager: Kindred Construction
Lawyer – Squamish United Church: Ian Davies, Race and Company
Lawyer – Sea to Sky: David Von der Porten, Ratcliff and Co.
Centrepoint was created by two founding partners: Squamish United Church and Sea-to-Sky Community Services. Two debt financiers helped make the project a reality—Vancity Credit Union and BC Housing, and today, there are three strata owners: Squamish United Church, Sea-to-Sky Community Services and BC Housing.
Squamish United Church had a previous long-standing relationship with Sea-to-Sky Community Services having collaborated on other non-profit initiatives in the area. These two distinct organizations came together, rooted in their common objectives of establishing a trusting partnership, mapping out an alignment of interests, working collaboratively, and empowering one another. Although other private and non-profit sector groups were interested in partnering, the Church and Sea-to-Sky were the right and the ideal partners for one another.
"[The] partner we wanted to stick with was the Church. We would not be [at Centrepoint] if it weren't for them." – Lois Wynne, Sea to Sky Community Services, Former Executive Director
Throughout the planning and development process, both organizations signed agreements between one another in order to establish a working relationship, outline financial obligations, and establish methods for resolution should conflict arise (see list of project documents at conclusion of the Case Study). The most preeminent was a binding Master Agreement, which legally committed the two parties to each other. This Master Agreement formally established the Joint Building Committee for the Centrepoint project. This Committee had equal representation by the Church and Sea-to-Sky and was where all key decisions were discussed and made by consensus.
"We had Ian Davis [lawyer for Squamish United Church] explain every clause. Everything was very transparent. We worked hard at over informing. That's why Presbytery stayed on board." – Peter Gordon, Cascadia Consulting, Squamish United Church member
Officially, the Centrepoint project needed approval from the BC Conference of the United Church of Canada (Presbytery), however in actual practice, this requirement was more of a secondary due diligence step, rather than a body of conventional governance. Governance for the United Church is primarily at the local congregational level. Other levels of governance are there to 'support' local congregations, rather than manage them. The Building Committee communicated regularly to the Presbytery and kept them informed, and they subsequently provided consent for each step. In addition, at various stages Presbytery had their own lawyers review proposed legal agreements that the Squamish United Church was entering into. This added an extra layer of rigor and comfort for the Centrepoint decision makers.
BC Housing later became involved as a partner and strata owner of 15 units in the four-story residential rental component. They required a development management consultant to be the coordinator for their section of the project, and that company eventually oversaw the full project. CPA Developments, from Vancouver, BC was contracted to fill this role.
"CPA was the owner's representative [/development manager] and were experienced enough to help us with the project. [Ideally, we] would have had them on at day one. They were worth every dime and acted as the conduit, who could take over the conversation if necessary. They [were] really helpful with [creating] very detailed budgets and helping to negotiate the contract with Kindred, [and] took care of all the billings of trade consultants. BC Housing has an onerous process with many layers of approval for fund requisition." – Lois Wynne, Sea to Sky Community Services, Former Executive Director
In order to facilitate the actual development and later governance and operation of the Centrepoint project, the Church transferred its five legal property titles for $1 to Sea-to-Sky Community Services. This was based on the trust (as documented in the Master Agreement) that Sea-to-Sky would sell the Church's finished strata unit back to them for the same value as their land contribution.
"[One] major question was how to handle the real estate? [We] needed to convert strict Church ownership over to social development agency without a lot of money changing hands. That's where the idea of strata titling came up. It required less bureaucracy. By creating the strata corporation, we did not need to have a [monetary] land value exchange." – Peter Gordon, Cascadia Consulting, Squamish Church Member
Through this legal structure, Sea-to-Sky became the lead development agency and were formally responsible and liable for project costs and loans with lenders. There continued to be close interaction on the project from the Squamish United Church through the Joint Building Committee.
After construction was complete, a three-member Strata Corporation took over ownership and management of the entire project. A Strata Board is currently made up of seats held by the Squamish United Church, Sea-to-Sky Community Services and BC Housing. All parties have equal voting shares and decision are made by majority. BC housing typically does not sit in meetings--by and large they have designated Sea-to-Sky to act on their behalf. Strata conversations focus on how to manage common areas, such as signage, hallways, and the exterior. The strata budget is divided proportionally by the area occupied by each owner.
Originally, there were mixed opinions about the project from immediate neighbors. They had concerns about views being blocked and increased traffic. However, throughout the course of the project planning and development, most neighbors became very supportive. The Joint Building Committee aimed to be as transparent as possible, organizing community meetings and sending out regular letters to keep neighbors updated and informed.
In terms of the financing partners, in 2009 Vancity Credit Union (who had merged with Squamish Savings) wanted to engage with the local community and saw the vision for Centrepoint as a good project to support. Tracey Kleisch, a Centrepoint Joint Building Committee member, who also worked with Vancity, proved to be a valuable connection. Ultimately, Vancity Credit Union provided the long-term mortgage for the project. BC Housing financing of the rental housing was equally significant.
---
Timeline & Steps to Realization
First Concept Idea by Squamish United Church: Mid 1990's
Squamish United Church Ministerial Residence Sold: 2000
First Concept Drawings by the Squamish United Church: 2000
Early Letter of Understanding between Church and Sea-to-Sky: 2009
Initial Joint Building Committee Formed: 2009
Project Functional Program: 2009
Registered Architect and Engineering Team Hired: 2009
Early Technical Drawings: 2009
Community Engagement: 2010 – 2017
Master Agreement: 2013
Project Funding Secured: 2015
Initial Permit and Tender Drawings: June 2015
Final Construction Drawings Issued: April 2016
Construction Commencement: May 2016
Transition Team and Move-in Planning: Summer 2016
Construction Substantial Completion: Summer 2017
Move-In: Summer 2017
Stabilized Operations: Summer 2018
---
Funding & Financing
The financial catalyst for the Centrepoint project was the sale of the ministerial residence by the Squamish United Church–a separate residential property in Squamish–which was no longer needed. This sale freed up equity of $1.8M and enabled the congregation to consider wider possibilities for their church site redevelopment, which ultimately became Centrepoint. The Squamish United Church was able to fund its portion of project costs using these initial funds, as well as some start up grants.
During the early conceptual stages of the project, the Squamish United Church entered into an agreement with Sea-to-Sky that costs would be split 50-50. Some of these costs included the land survey and soil assessment. Later in the planning stage, the Joint Building Committee decided that since the Church was only going to occupy 18% of the space, future costs would be split based on the percentage of floor area that each group would occupy. This entailed that Sea-to-Sky would be responsible for the majority of future costs.
Vancity Community Foundation funded an early stage feasibility study for $25,000. Completed by Waller and Company, the study focused on engaging with surrounding community members. Centrepoint made a second successful application to Vancity Community Foundation for a predevelopment loan of $99,000 for project soft costs. This paid for a geo-tech report and engineering plans to retain part of the original church structure in the new development.
In 2012 the Joint Building Committee begin discussions with Vancity Credit Union about long-term financing. The Credit Union helped bring capacity to the project by arranging a workshop with their Community Investment team and the Centrepoint Joint Building Committee. This group brainstormed ways for Centrepoint to proceed. Vancity Credit Union ended up offering Sea-to-Sky a long-term mortgage for the project.
Initially, Sea-to-Sky did not bring capital to the project. The financial arrangement was that their operational revenue could cash flow the required long-term mortgage. In addition, they had a solid reputation in the local community and were committed to fundraising the additional equity required. Former Sea-to-Sky Executive Director Louise Wynne and Liz Wood from Community Living were heavily involved in capital fundraising campaign.

Centrepoint Groundbreaking
Photo Credit: CMHC
"One of the challenges was Sea-to-Sky wanted to do their own fundraising. They wanted to make sure there was autonomy. There was a fear that donors might not give because the project was part of the church and [the donors] may not understand that there is a [operational] division [between our organizations]." - Rev. Karen Millard, Squamish United Church
The fundraising campaign went slowly at first. The team found it difficult to secure large contributions from the smaller Squamish community. Eventually, major town players came on side and provided financial support - the Rotary Club, Whistler Blackcomb Foundation, Squamish Foundation, and Squamish Savings (amalgamated with Vancity Credit Union).
"Thought we would have a 1-year capital campaign, but it turned into 3 years. It took people a while to watch if [the project] was for real. Once we got digging dirt the campaign really picked up. By those major parties committing to support the project, there was a high level of confidence in the project actually moving forward and real will to make it work." – Lois Wynne, Sea to Sky Community Services, Former Executive Director
With an original goal of raising $2M of additional equity in the capital campaign, about $1.6M was secured. The Joint Building Committee was comfortable with this level of investment and was confident that the funding gap could be filled during construction.
The funding/financing side of project involved a high degree of trust between the partners. All budgets were discussed in depth and voted on by the Joint Building Committee. The budgeted number had to fit a figure that Sea-to-Sky could realistically fundraise, and that BC Housing would provide a construction loan for.
To establish construction budgets, the Joint Building Committee worked with Kindred Construction, a Quantity Surveyor, and the architect. Different parts of the building had different cost drivers, however the cost sharing agreement was relatively simple, clear, and was coordinated without significant difficulty. The original budget estimate was $8M for construction costs. However, after the technical drawings were put out to tender and construction firms submitted bids, along with some value engineering, the final quote came in at approximately $9.8M.
During the time taken to navigate the planning stage and complete the fundraising campaign, construction prices had gone up. It was difficult to manage the length of time that the Joint Building Committee needed to complete due diligence through consensus, and the conflicting need to keep the entire project moving forward quickly, so that cost inflation wouldn't prove to be detrimental. A fixed price construction contract with Kindred was committed to. Although this had a cost premium, it provided needed protection for the Squamish United Church and Sea-to-Sky.
"[A fixed price construction contract] gave some relief to congregants and Sea-to-Sky, and was mandatory from each of the agency's [boards]. We paid a little more, but it's not worth the risk [to do otherwise]." – Peter Gordon, Cascadia Consulting, Squamish United Church Member
BC Housing provided a grant which facilitated formal planning and design of the residential component. BC Housing also agreed to provide a construction loan for the entire project at a below market interest rate, which was extremely important.
Centrepoint went into construction with one single owner--Sea-to-Sky Community Services. The Squamish United Church transferred all its property rights over to Sea-to-Sky. This legal arrangement was required by BC Housing in order for the construction mortgage to be registered over one property owner. The Church took a risk that if construction failed, that they could lose everything.
"We were able to convince our congregation and Presbytery that this Strata was a good plan for us. It all required good faith and trust. We were doing it for greater good. As you got further and further out in common membership, folks wanted to make sure we weren't being taken advantage of. People dislike change; however, the vast majority [of Church congregation] was strongly supportive." – Peter Gordon, Cascadia Consulting, Squamish United Church member
BC Housing required that take-out financing was in place prior to providing the construction loan. This was secured by a formal long-term financing agreement with Vancity Credit Union near 2014. BC Housing also provided $3M equity to Centrepoint in exchange for strata title ownership of 15 units in the residential rental building.
A $650k reserve was set aside for contingencies and unexpected capital costs. By the move in date, this entire amount had been used. The project had seen many unexpected costs that were not included in the original budget and fixed price construction contract such as additional engineering; expansion of water main to 6-inch pipe for fire suppression–$200k; acoustic paneling–$50k; furniture which was bought second hand from Evergreen; and moving costs.
Finally, the District of Squamish was supportive of the project all thru the development process. There were many items that they contributed to the project, such as a grant for disposing of knot weed, community donated materials for construction, and waiving Development Cost Charges for the project.
Capital sources / revenue
Self-contributed/designated reserves
$1.8M – Squamish United Church
$700k – Sea-to-Sky
Grants (corporate and individuals)
Grants - government
$2.8M – BC Housing
$25k – Province of BC
$188k – Municipality of Squamish (waived DCC and cash)
$10k – CMHC
Grants - foundations
$300k – Whistler Blackcomb Foundation
$250k – Squamish Savings Legacy Fund
$25k – Vancity Community Foundation
Financing (public, bank/credit union)
$100k – Vancity Housing Pre development loan
$9.8M – BC Housing Construction Mortgage
$9.8M – Vancity Credit Union Take out financing
Land contribution
$1.3M – Squamish United Church
TOTAL: $21M
Capital uses / expenses
$25k – Pre-development costs
$9.4M – Hard costs
$375k – Soft costs
$68k – Financing costs
$105k – FF&E (furniture fixtures and equipment)
$1.3M – Land cost
$3.7M – Other
TOTAL: $21M
---
Operations & Tenanting
Approximately 3 years before shovels broke ground on Centrepoint, the Joint Building Committee began planning for longer-term property management. There was a steady progression in developing the Property Management Plan and understanding how the project would transition from the construction and substantial completion stage into stabilized operations.
"I can't underestimate the importance of [planning for] property operations – [you] have a very valuable asset that you now need to look after. It is quite a process to transition from development to operations." – Peter Gordon, Cascadia Consulting, Squamish United Church member
There was a need for Sea-to-Sky Community Services to develop a Transition Team–separate from the long-term housing and facilities staff–established solely to coordinate moving programs and operations from prior locations into the new building. Eighteen months before move-in, three staff took a project management course in order to build their knowledge to manage the move-in smoothly. This helped provide Sea-to-Sky with documentation to use during the process and to apply best practices to the actual move. The board of Sea-to-Sky was kept informed on the process and it was very transparent. A Charter was created to define what the goals were in the transition and included asset mapping, floor design, space planning (what furniture fits where), timeline and logistics. It helped Sea-to-Sky to get in a position where they could be operational in the building on day one.
Upon substantial completion of construction, the housing and facilities staff had a good idea of how the new facility would operate. However, there were still gaps in how the building systems would be maintained, ensuring that useable life of the building would be maximized. For example, the building had a commercial kitchen, but no budget had been set aside to maintain equipment for it continue functioning properly. A preventative maintenance plan for the building systems and equipment was created, ensuring regular monitoring and repairs would be completed in a regular and timely fashion. That said, final occupancy permits for the building were delayed by a month creating logistical challenges for finalizing procurement details and organizing contracts with suppliers for services.
Commercial Kitchen
Photo Credit: Jacqueline Gijssen
"There are many small items that add up, such as snow removal, regular painting of the common areas, cleaning of windows. The building consultant made a budget, but left things out that were critical. This is not uncommon in the non-profit sector, because groups may not be thinking at those levels, they are focused on direct services to clients. Groups need a clear budget and plan for how to keep the building functioning over time – rather than a reactionary response to maintenance. We plan [for the maintenance program] a 1 ½ year before for capital project." – Dennis Smith, Sea-to-Sky Community Services, Housing and Facilities Manager
When the construction was declared substantially complete, the Strata Corporation took over ownership of the property and responsibility for long term operation and maintenance. Sea-to-Sky and the Church each took charge of their respective strata lots. The seamlessness of this handover was indicative of the level of trust throughout the project.
Developing relationships with existing local suppliers was a priority for the Facilities Team, who seek companies that appreciate that Centrepoint is a social purpose real estate project and that Sea-to-Sky is a not-for-profit entity. Procurement decisions are based on attractive economic rates and with suppliers who understand the organizational missions of Sea-to-Sky and the Squamish United Church.
Rents from the housing component make the building financially feasible. The market rental units generate a portion of the revenue required to cover operating costs and help with the mortgage payments. Since the underlying assets are owned by Sea-to-Sky and the Church, as the mortgage is paid off, the equity these groups have in the building grows. In addition, eventually, the Property Management Team will be in a position to adjust rents, as cash flow required for debt service lessens.
There are 32 residential units in Centrepoint in total, 15 of these units are owned by BC Housing, but managed by the Sea-to-Sky facilities team. Rents are $600/mon for a subsidized studio (2018) and are based on Provincial Housing Income Limit rates. The moderate-income market units rent at a higher price point, which is set by affordability rates as defined by CMHC. The average market rent in Squamish currently is $1500/mon for a 1 bedroom.
Residential Unit Kitchen
Photo Credit: Jillian Brown
---
Impact
At Centrepoint, the Squamish United Church and Sea-to-Sky Community Services are helping one another achieve what had not previously been possible on their own. Both organizations have become more connected to the community, and the Centrepoint space is busy and occupied, multipurpose and adaptive. An example of growing use at Centrepoint is the new need for a liquor policy, with so many event bookings coming from outside organizations. Both Sea-to-Sky and the Church are learning and experiencing how to work together in new complimentary ways. People who use the building are starting to interact together in unique ways. For example, the drop-in music class organized by the preschool has started to use the Church Sanctuary space during the day.
"With the Centrepoint project, the Squamish United Church is caring for community in a way that it had previously not done. There is a real sense of pride there." – Rev. Karen Millard, Squamish United Church
"[The pre-school] asked if they could join us, now they come every week. We're finding that families who go to the preschool come to other programs and events that we offer as a Church." – Rev. Karen Millard, Squamish United Church
Sea-to-Sky Community Services have been able to consolidate their operations and headquarters into one location. This has increased operating efficiencies. For the first time in their 40-year history, Sea-to-Sky owns their facility. The previously $20,000/mon paid for rent has been converted into a mortgage payment, which is growing equity for the organization and providing long term security of tenure.
Based on the financial success of Centrepoint, confidence by funders to support other projects with similar models is growing. Sea-to-Sky is expanding and have projects with more residential units currently underway.
Sea-to-Sky Community Services Lobby
Photo Credit: Jillian Brown
"It's a natural progression, we're leveraging [the] asset and not relying on government subsidy. It's all making the pie bigger."– Dennis Smith, Sea to Sky Community Services, Housing and Facilities Manager
---
Lessons Learned
As is the case with many non-profit initiatives, turning an idea into reality can take longer than anticipated. For both Sea-to-Sky Community Services and the Squamish United Church, initial fears surrounding unknown working arrangements presented by co-location of the groups and non-traditional office space, are evaporating. It has been a healthy process of people coming out of their comfort zones and adapting.

Exterior inner courtyard
Photo Credit: Jillian Brown
"Beautiful failures" from the Church's perspective were that it is a bit of a struggle not having space that we can set up our territory in. For example, we wanted a fire side chat room [which was not built], but it has become the Sea to Sky board room [now a shared space]. The amazing gift in the sharing, is we have … way more space than we had before, such as the preschool." – Rev. Karen Millard, Squamish United Church
A piece of advice provided by members of Joint Building Committee is to think ahead as far as possible. If there is a disagreement, plan out how it can be resolved before in happens. By having a least two board members from each organization on the Building Committee, decision makers from both groups were kept informed and were able to act quickly when required. At the staff level, some at Sea-to-Sky felt that there was not quite enough consultation on the project. The Building Committee tried to engage and keep staff involved to the greatest degree possible. However, with many building professionals (architects, engineers, trade consultants) billing their time and requiring directions to be provided quickly, it was difficult to ensure all staff input was fully acted upon.
"Sometimes [executive decisions] had to be made, because engagement was becoming extremely onerous. People were focused on their programs. Hardest part was reaching consensus." – Lois Wynne, Sea to Sky Community Services, Former Executive Director
Additional advice provided by those involved in creating Centrepoint, was to dedicate more staff time to fundraising. There was only the Sea-to-Sky Executive Director and one other staff working part time on the capital campaign. A better approach would have been to bring on a dedicated staff person to focus solely on fundraising, instead of working this critical task off the corner of a desk.
Finally, with unique social purpose real estate projects, it is important that there is a champion within the local municipal government who is advocating for the project within the bureaucracy. A challenge for Centrepoint was municipal planning approval, which delayed the project.
---
Interviewees
Peter Gordon – Cascadia Consulting, Member of Squamish United Church
Rev. Karen Millard – Squamish United Church Minister, Family Systems Counsellor
Jaye Russell –- Sea to Sky Community Services, Executive Director
Dennis Smith – Sea to Sky Community Services, Housing and Facilities Manager
Lois Wynne – Sea to Sky Community Services, Former Executive Director
---
Reference Materials:
---
Project Media