Dave Pranteau Aboriginal Children's Village
Case Studies / Space profiles
Dave Pranteau Aboriginal Children's Village
Space Profile
Name of Space: Dave Pranteau Aboriginal Children's Village
Name of the Occupants: Lu'ma Native Housing Society, Lu'ma Medical Centre Society
Organization Type: Registered Non-Profits
Society Objectives:
To ensure a continued supply of adequate housing at a modest cost to Aboriginal people with low and moderate incomes;
To provide an excellent vehicle for the construction of new projects, to the purchase, repair and renovations of older homes in a market area which otherwise would rapidly deteriorate and eventually lead to slum housing;
To encourage lending institutions to take more of a responsibility for provision of funds for housing needs by Aboriginal people;
To protect the rights of Aboriginal tenants;
To educate the community in regards to the housing problems of Aboriginal families, singles and elders in the urban community; and
To create the conditions necessary for urban Aboriginal peoples in Vancouver to improve health & wellness outcomes and disparities.[1]
Owner – Land: Lu'ma Native BCH[2] Housing Society
Owner- Building/Improvements: Lu'ma Native BCH Housing Society
Rent/Lease/Own: Own
Address: 2980 Nanaimo Street, Vancouver, BC, V5N 5G3
Square Footage: approximately 27,000 square feet
Year Opened: 2012
Space/Facility Type: Non-market residential, office, multi-functional, community facility
Services/Programs: Lu'ma head offices; Lu'ma Medical Centre; Lu'ma Youth Mentorship Program; Aboriginal Housing Outreach Program; Community Voicemail Program; and workshops, meetings and gatherings led by community groups in the amenity space.
Website: http://lnhs.ca/
---
Synopsis
The Dave Pranteau Aboriginal Children's Village sits at the corner of Nanaimo St. and the Grandview Highway in East Vancouver and is owned and operated by Lu'ma Native BCH Housing Society. The building serves multiple purposes, all centred around Lu'ma's goal to end the cycle of youth homelessness and poverty by providing a stable living environment to children and youth living in or transitioning out of foster care. To that aim, 10 of its 24 housing units are assigned to children and youth in foster care directly, rather than to their foster parents to create permanency in the lives of those children even if their foster placement doesn't work out. The Children's Village also includes a medical centre providing culturally appropriate care; youth mentorship program, community voicemail, and housing outreach programs; Lu'ma's head offices; and space for additional programming. The redevelopment project to create the Children's Village took place between 2005 and 2012, with the first youth and families moving into the building in the fall of 2012. It is a remarkable site where a vision for stable, culturally appropriate housing and supports live and are realized through physical spaces, programs, operations and partnerships.
---
Concept & Need
In 2018, 63% of the 6,698 children and youth in foster care in British Columbia, were Indigenous.[3] That 63% is despite Indigenous youth making up only 7% of young people in Canada.[4] When Lu'ma began the Children's Village project in 2006, the numbers were much the same. The link between involvement with child welfare services and youth homelessness is well established, for example the 2016 study, "Without a Home: The National Youth Homelessness Survey," found that 58% of youth experiencing homelessness had had some involvement with child protection services in the past, and that Indigenous youth experiencing homelessness were more likely to report past involvement with child protection services than white youth or youth from racialized communities.[5] It is in this context that the Dave Pranteau Aboriginal Children's Village came to be: a place committed to changing these realities for Indigenous youth.
The vision for the Aboriginal Children's Village is to break the cycle of homelessness and to provide permanency in the lives of children growing up in government care, by providing them a stable, culturally welcoming living environment. This vision falls well within Lu'ma Native Housing Society's mandate to address and alleviate poverty and homelessness by tackling some of the upstream causes of these outcomes, such as involvement with child welfare services, or lack of support upon aging out of such services. For some of the people most closely involved in the project, the motivation behind the Children's Village was personal: Marcel Swain, Lu'ma's CEO; Patrick Stewart, architect; and Dave Pranteau, board member and the building's namesake, all grew up in care and knew what it felt like to not have a place to call home. For them, Marcel shares, "the aim was to champion the cause for children, first and foremost."
In practice, the housing and programming concepts born from this vision are unique: ten of the 24 residential units in the Children's Village are assigned to a child in government care, not to their foster parents. If a foster family placement does not work out, it is the foster family that moves on, and the child is able to keep living in the same building with a new foster family. In addition, three of the residential units are reserved for youth aging out of government care. The program spaces on the ground floor of the Children's Village support the housing residents and members of the broader community by providing space for Lu'ma Native Housing Society's youth mentorship program, the Lu'ma Medical Centre, and Lu'ma's Community Voicemail and Housing Outreach programs. There is also a 2,100 sf[6] amenity room, which can be rented by residential tenants of the building and community groups alike for meetings and events.
"In [our model] it's the kids who become a permanent part of the building and a permanent part of the community, so they get to attach themselves to social workers, teachers, friends, all the necessary infrastructure to support them to grow up and have a stable life."

Marcel Swain - CEO, Lu'ma
The concept for the Children's Village first emerged in 2005. At that time, the vision was for an even larger hub of housing and services for youth, including sports fields and programming, plus music programming provided by high profile partner organizations. Although the proposed site for this larger Village fell through, and those potential partners moved on, Lu'ma forged ahead to make the vision a reality on their own. Lu'ma optioned the current site of the Children's Village in 2007 and were eventually able to redevelop it into what it is today— a home and place of community for many.

Children's Village entrance of Nanaimo Street.
Photo Credit: Andrea Foster
At the new site, the goal at first was to have commercial tenants in the main floor units as income-generators for the project and for Lu'ma. Over the first few years of the building's operations, however, it became evident that the spaces would be better used for Lu'ma's own programming and offices, and the Youth Mentorship Program and Medical Centre opened in 2014 and 2016 respectively. Despite these changes to the physical size, location, and commercial tenanting of the building, the fundamental goals of the project never changed.
"The goals change? Never. No, we very much knew exactly what we were doing and what the goalpost was and why we were doing this. The issues of children being removed from their parents are still very much a relevant outcome of residential schools and … a continuation of that colonization and devastation and genocide. So, it's really important for first nations and aboriginal communities to try to do everything they can to create solutions. We never wavered from that; we couldn't."

Andrea Foster - Project Manager, Lu'ma
---
Partnerships & People
Key players in the project's development included Marcel Swain, Lu'ma CEO; Dave Pranteau, a board member at Lu'ma; Patrick Stewart, the project's architect; Marjorie White, Vice President of Lu'ma and a leader in the community; Bernadette Spence, the then Executive Director of Vancouver Aboriginal Child and Family Services Society (VACFSS); Andrea Foster, Project Manager at Lu'ma; and Simon Davie, the project's development consultant and Principal at Terra Housing. Marcel Swain and Patrick Stewart, in particular, stand out as champions of the project for their longstanding commitment and big picture vision. They have been part of the project, and Marcel part of the operation, since inception. Remarkably, there is a length of commitment to the project by many of the players that goes well beyond normal. The partnership with VACFSS has also been crucial to the project's success, operationally and because having the market rents they provide for 13 of the units committed helped Lu'ma secure additional financing for the project.
"…you know developing real estate is never straightforward and easy and you need champions … to drive projects; …Marcel is certainly a champion. And for the Non-Profit clients, they want to trust and rely upon their consultants—[we] certainly, with Lu'ma, [were] there… filling in the gaps."

Simon Davie - Principal, Terra Housing
Financially, Vancity Credit Union was instrumental in securing the project site, through their then development-arm, Vancity Enterprises. They were the one partner whose role did change during the project: initially, they were involved only as a funder, but as the project progressed, and they held the option on the land and then bought and held the site for Lu'ma, they became involved on the design and development team. BC Housing (BCH) was also a key financial partner and provided the mortgage. Marcel credits their and Vancity's flexibility with the dollars they provided, and their ability to be 'out of the box' thinkers with the particular success of their support. Other financial partners included Canada Housing and Mortgage Corporation (CMHC); and the City of Vancouver, who aided with the necessary land assembly. The Vancouver Foundation, who approached Lu'ma in 2012 to expand their programming for youth aging out of foster care, also became a partner with the Children's Village Youth Mentorship Program being an outcome of this partnership.
Terra Housing, were the development consultants on the project--with Marcel Swain and others at Lu'ma holding the big picture vision, and Simon Davie at Terra leading the day to day development of the project. This relationship has been so successful that since 2017, [7]Lu'ma and Terra have partnered to create Lu'ma Development Management, a social purpose development management firm owned and staffed by Indigenous people.
Lu'ma's Dave Pranteau Aboriginal Children's Village story highlights the importance of finding appropriate operating partners. When asked if colocation was considered, Andrea Foster, Project Manager at Lu'ma, commented on the importance of compatibility with partner organizations: if they aren't a perfect match, you run the risk of spending too much time managing your partnership, which takes focus away from delivering services. Marcel also commented that it was considered for the site, but they couldn't find the right fit. Especially for a place like the Children's Village, where ensuring any colocation would be culturally appropriate is an essential part of the vision.
"…you know it's not an issue that we don't want to partner …, it's just that we don't know how [another organization] would solve some of the cultural differences... [one example] … if someone dies in the building, … one of our practices is to spread cornmeal on all the floors of the building, and not to walk on those floors for... four days. We're not sure that [a] non-native community would appreciate the fact that they couldn't go in their hall for four days, or leave their home for four days. That would be a really difficult thing for non-Indigenous partner agencies, … their families and others to … accept that tradition and custom when it has nothing to do with what they practice."

Marcel Swain - CEO, Lu'ma
---
Planning, Feasibility, Acquisition & (Re)Development
From concept to move-in, the Children's Village took from 2005 to September 2012. One of the key steps in this process was securing the site at Grandview and Nanaimo where it now sits. Vancity helped option the site in 2007 and hold it until the sale closed in 2010. During this time, there was a moratorium on new development permits in the City, so the site sat waiting, and Lu'ma had to bear the cost of holding off on development. Once it was possible, demolition of the existing structure took place in 2010, and construction began in November 2010.
"We don't spend a great deal of time assessing whether or not the project is a good idea. Every one of the projects we do are outside of the box thinking. They're projects that nobody else has done before… So, we're constantly doing things that are outside the box and if you were to sit back and look at them as a feasibility, you'd probably say they wouldn't work."

Marcel Swain - CEO, Lu'ma
Timeline
Concept/Idea: 2005 - 2006
Purchase of Nanaimo/Grandview site: Optioned in 2007, sale closed in 2010
Blessing the soil: 2008/2009
Community Engagement: 2008 - Rezoning public hearing March 24, 2009
Feasibility: 2006
Business Plan: 2007
Pre-Development: 2006-2007
Received Provisional Project Approval from BCH: Oct 9, 2007
BCH Commitment: April 22, 2009
Vancity interest rate commitment: August 30, 2010
Construction/Renovation: Demolition July 2010 – Construction November 2010
Certificate of Completion: August 23, 2012
Move-In/ Occupancy permit: September 2012
Youth Mentorship Program opened: 2014
Headquarters moved in: 2015
Medical Centre opened: 2016
---
Business Models & Operations
A key component of the Children's Village operational model is the 10 residential units it includes for children in government care, and the three additional units for youth transitioning out of care. These 13 units are rented by VACFSS from Lu'ma at low-end market rates, and the residents pay a portion of that rent (determined based on their income) to VACFSS, with VACFSS providing a subsidy for the balance. An essential element of the units available for kids in care is that they are large: up to four-bedrooms. This means that foster parents who already have children are able to move in and have space for the whole family, or that siblings in care are able to stay together. The remaining 11 units in the building are rented at affordable rates to households on Lu'ma Native Housing Society's housing waitlist, which totals roughly 5,000 people.
The other element that makes up the building are the commercial rental units (CRUs) on the ground floor. While these were originally intended to be rented out to other organizations or businesses, it eventually made more sense for Lu'ma to occupy them themselves. The building is owned by Lu'ma Native BCH Housing Society, a sister society of Lu'ma Native Housing Society. The programs in the building's CRUs, even though mostly operated by Lu'ma Native Housing Society and its other sister societies, all pay rent to Lu'ma Native BCH Housing Society.
These programs include the Aboriginal Youth Mentorship Program, which provides programming and support for youth living in the building and in the broader community. Programming includes one-on-one mentoring sessions with a Lu'ma staff member, community meals, seminars on important life skills and opportunities, and field trips to a wide range of places from setting up bank accounts together to touring post-secondary places of learning. There are approximately 30 youth participating in the program at any given time, and graduates of the program can and do return at any time.

Participants in the Youth Mentorship Program.
Photo Credit: Andrea Foster
The Lu'ma Medical Centre is also located in one of the Children's Village CRUs. Operated by one of the sister societies, Lu'ma Medical Centre Society, it provides culturally safe healthcare that incorporates cultural knowledge and access to elders for families in the community. The Medical Centre includes seven medical exam rooms, three counselling rooms, and one healing room, which is a sacred space. When it first opened in 2016, the Medical Centre operated with just one doctor, and one medical office assistant. Now, the Society employs 12 people directly, and is served by three doctors who make up 1.1 full time equivalent (FTE) doctor, and 1.5 FTE nurse practitioners. An exciting new partnership between the First Nations Health Authority (FNHA) and BC Ministry of Health, announced in the fall of 2019, will provide 2 million dollars in funding to the Medical Centre,[8] allowing them to hire 12 more FTE health care practitioners and increase the number of patients they serve from 1,400 to almost 3,000.
"We've been able to broaden the scope of our impact from this building from just providing a safe permanent place for kids to be raised in foster care and providing other social determinants of health, to actually being able to help and enable people to completely change and improve their health outcomes...[With the Medical Centre] we wanted to change the way healthcare is delivered. I mean health disparities were so horrific... We can't allow those inequities of service provision to persist."

Andrea Foster - Project Manager, Lu'ma

Lu'ma Medical Centre waiting room.
Photo Credit: Liana Glass
Several other programs and services are operated out of the building. Lu'ma Native Housing Society runs a Community Voicemail program out of the Children's Village. This program provides free, individual phone numbers with local area codes to people experiencing housing instability, who don't have a phone, or who can't afford to add minutes to their phone plan. Having access to an individual phone number and voicemail helps alleviate stigma and ensures that important opportunities like job offers aren't missed. The Community Voicemail program was launched in 2010 and provides 1,700 phone numbers in the Lower Mainland. Lu'ma also operates a Housing Outreach program that helps community members navigate available funding and programming related to housing when they can't provide them housing directly. Finally, a community amenity space is available to be rented out by residents of the Children's Village and by community groups for a fee. Altogether, there are currently roughly 100 staff working in the building to make Lu'ma's programs possible.
The decision to move these programs and Lu'ma's operations into the CRUs in the Children's Village was key to making the overall project operationally stable and sustainable. After a few years of trying to find the right tenants, Lu'ma decided it would be most beneficial to use the spaces themselves. This allowed them to sell their previous office space, which they had owned, and consolidate programs, administration and associated expenses on the one site. From the beginning, another key component of this project and its operational model was Lu'ma's emphasis on owning their own land. While they have leased City land to make projects work before, they prefer to own in order to build equity and leverage it into further projects.
---
Funding & Financing
In terms of funding and financing, this project is defined by Lu'ma's commitment to owning their own land, supplying a large amount of their own capital and carrying mortgage financing, as well as creativity and flexibility by all partners involved.
Lu'ma first optioned the site, then a strip mall that had had various uses over the years, for sixty days in 2007. At that point, they had only $5,000 and no funding lined up for the project. After the sixty days went by, they were able to option the land for another sixty days by adding an additional $1,500 deposit. After this time period came and went without the necessary funding, Lu'ma approached BC Housing, who provided a $50,000 non-refundable deposit. This gave Lu'ma the time they needed to approach Vancity and Vancity Enterprises and look for other creative ways to secure the site. Vancity Enterprises ultimately created a numbered company with Lu'ma and bought the site for them. This numbered company allowed Lu'ma and Vancity Enterprises to hold the site in trust for the approximately two years it took to get all the necessary permits they needed to start building. In this time frame, a Request for Proposals came out from BC Housing for affordable housing projects, and Lu'ma was successful in securing funding because they owned the land and were shovel ready. As Marcel puts it, "If you don't have land, you're just not going to get a project."
Negotiating with Vancity to lock in the interest rate at 5.1% on their loan was another key financial step. While this did not ultimately save Lu'ma money because interest rates stayed low throughout the project, having the rate locked in early on helped them plan and budget throughout. Vancity Credit Union was also a key financial partner by providing a construction loan and the mortgage needed to complete the project. The partnership with VACFSS was also a crucial financial step as well as an operational one: having the guaranteed market rates secured on 13 units gave Lu'ma financial security to be able to prove they could service their mortgage. The final key financial step came when Lu'ma sold their old office space and moved into the Children's Village. This gave them the remaining equity needed toward the building costs.
Expenses:
These numbers are approximate.
Total cost to build (not including land): $13,500,000
Cost of land: $3,500,000
Total project cost: $17,000,000
Revenue:
Government of Canada Homelessness Partnering Initiative: $710,000
BC Housing Capital Grant: $5,250,000
City of Vancouver Funding: $240,000
City of Vancouver waivers/deductions: $246,507
Lu'ma Native Housing Society Equity and financing: $10,500,000
Urban Aboriginal Strategy capital furnishings grant: $120,000
Total project revenue: $17,066,500
---
Impact & Lessons Learned
As of April 2020, Lu'ma's Dave Pranteau Aboriginal Children's Village has been home to approximately thirty children in foster care since it first opened. Children in the building are able to experience permanency in their housing and in the relationships they form, which was the primary focus of the project all along. For Lu'ma itself, the project has also delivered above and beyond its initial promise. The organization has been able to expand its programming and occupy space as its own landlord, with the project providing a platform for Lu'ma to grow and build their organizational sustainability. The space is consistently used, there are families benefiting from the housing and programming it provides, and Lu'ma is paying down their mortgage. As Andrea Foster succinctly put it, "people are able to build community here, that's really neat."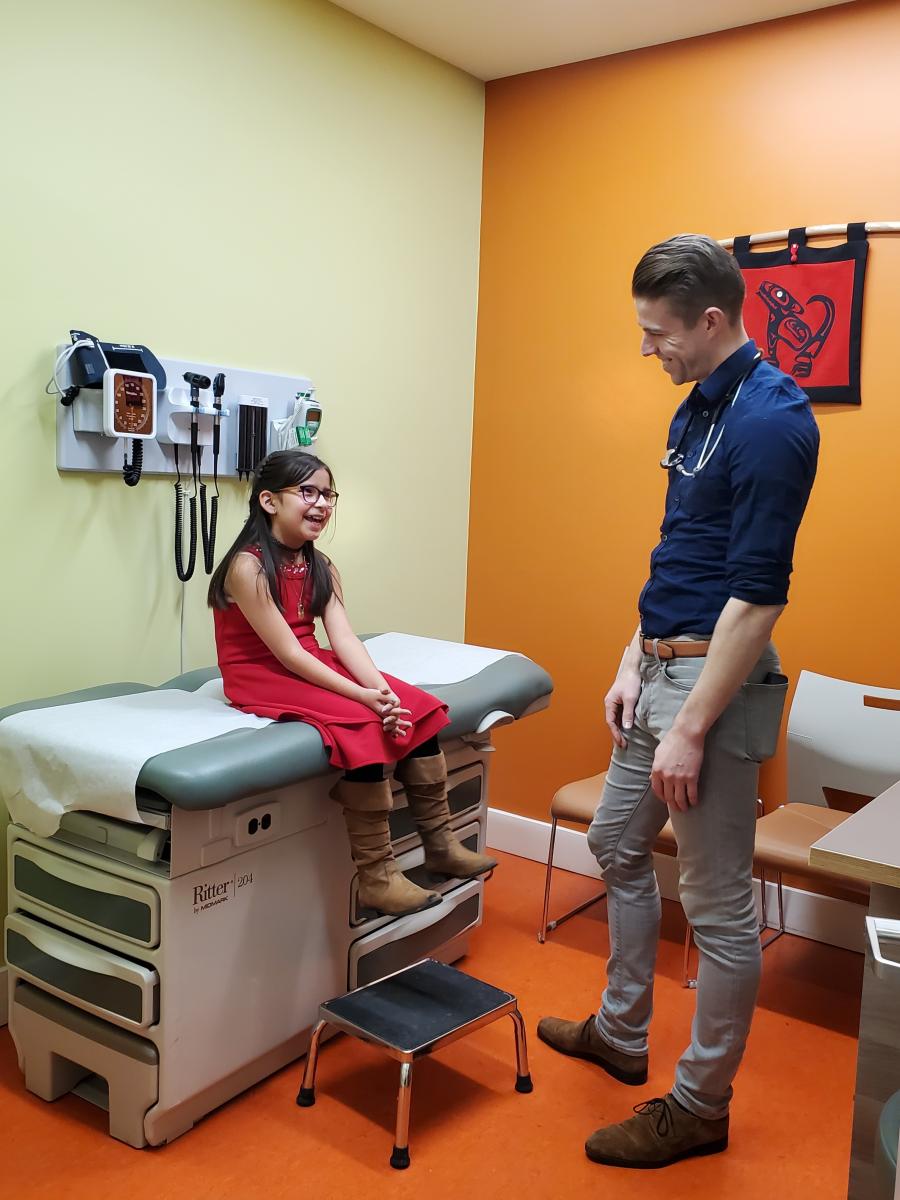 Medical Centre exam room.
Photo Credit: Andrea Foster
The building is also a great resource to the broader community: in its first year of operation, the amenity space was rented out 340 times for community gatherings, meetings and workshops. The Children's Village has therefore become a hub for the local community and for businesses and government meetings as well. Perceptions of the Children's Village are extremely positive, and it is recognized as a place of safety because it is run by an urban Indigenous organization, as opposed to being a government facility.
"This is just a project of reconciliation. It's an example of what reconciliation should look like."

Marcel Swain - CEO, Lu'ma
Some of the key takeaways from this project might be summarized as follows: the value of owning land and securing compatible partners early on cannot be overstated. While certain elements of the project changed throughout, the strong core vision Lu'ma and their partners brought to the project, saw it successfully through to completion. They never gave up, and they weren't afraid to take risks. The importance of being able to be creative in seeking funding also comes through, as an underlying component of the Children's Village's success.
"You know, a bank can't sign off a loan that doesn't work and you can't do that [either], but there's a band of risk that stakeholders are willing to take … if they really like the story and what your goal end result is trying to get to; they're more willing to push a little bit into that red zone of risk. …I think one lesson is … if you have a great story and a great product and a business plan that's sensible then people will come and make it happen."

Simon Davie - Principle, Terra Housing
Despite its overall success, the Children's Village was not without challenges. During the two years the land was held in trust, legislation changed requiring more extensive soil remediation on the site than had been anticipated. The cost of this extra work drained the project's contingency budget. Another challenge came in the form of opposition from the community and the City to the overall appearance of the Children's Village during the early design stages. The Children's Village is an architectural statement, located in what was an otherwise homogeneous residential area at the time of its construction. As the architect, Patrick Stewart, put it, attempting to achieve such a feat resulted in some "trials and tribulations."
"I think it's perceived as a very good asset and is valued highly by the community just by the work that goes on in there and even as a physical statement on the street… My design work is … very overt… and I don't apologize for it. I say, 'well, our villages were violently taken away from us, our poles were cut down and floated away to museums, our long houses were burned, our villages were relocated… That was done violently, so when I do a façade like the children's village… I violently put that back on the street so everybody can see.' Not a lot of people also know the history… So, if there's people taking the time to understand what and why the building is the way it is, there's a lot of knowledge transfer. People gain an appreciation for what the building stands for."

Patrick Stewart, Architect
Moving forward, Lu'ma is looking to do more projects like the Children's Village. The challenges of homelessness and youth in care are too big for one building to address, and Lu'ma wants to engage in more partnerships with governments, foundations, and other organizations to make safe, affordable places for people to live and access services. In order to achieve this, Lu'ma is working with Terra Housing to form the new entity, Lu'ma Development Management, which is a development management firm with the goal of being fully staffed and owned by Indigenous people and is well on its way to being there. This has been a major outcome of the Children's Village project (and others Lu'ma and Terra have partnered on) organizationally and is another of its considerable impacts in addition to the stable living environment it provides for children in government care.
© 2021 Social Purpose Real Estate Collaborative. Portions of this Case Study may be reproduced for research and educational purposes. Please credit: "Social Purpose Real Estate Collaborative www.socialpurposerealestate.net"
---
SPRE CASE STUDY Interviewees:
Marcel Swain, CEO of Lu'ma Native Housing Society and sister societies
Andrea Foster, Project Manager at Lu'ma Native Housing Society
Jennifer Loh, Controller at Lu'ma
Simon Davie, Principal and Chief Operating Officer at Terra Housing
Patrick Stewart, Architect, Patrick Stewart Architects
[2]
Lu'ma BCH Housing Society is a sister society of Lu'ma Native Housing Society. It is structured differently to facilitate partnerships with BC Housing. The BCH stands for BC Housing, but is never spelled out in the organizations name.
[7]
Lu'ma Native Housing Society Magazine (2020)