Artspeak Gallery & Artspeak Satellite
Case Studies / Space profiles
Artspeak Gallery & Artspeak Satellite
Space Profile ONE
Name of Space: Artspeak Gallery
Society Mission: "To encourage a dialogue between visual art and writing. Artspeak actively contributes to cultural communities through our commitment to artists producing challenging, innovative work in diverse media, our affiliation with other organizations, and the public interest we generate in contemporary art."
Owner - Land: I.E. Artspeak Gallery Society
Owner – Building / Improvements: I.E. Artspeak Gallery Society
Rent/Lease/Own: Own
Address: 233 Carrall Street, Vancouver BC, V6B 2J2
Square Footage: 828 sq/ft
Year Opened: 1986, current location 1997
Space/Facility Type: Retail; Office; Multi-Functional; Community Facility
Organizational Type: Registered Not-For Profit
Space/Facility Use: Arts/Culture
Programs/Services Delivered: Artspeak mounts exhibitions which are open to the public as well as artist talks, lectures and screenings associated with the programming. A small bookstore containing catalogues and small items of ephemera from previous exhibitions are for sale.
Website: http://artspeak.ca/
---
SPACE PROFILE TWO
Name of Space: Artspeak Satellite (working title)
Society Mission: "To encourage a dialogue between visual art and writing. Artspeak actively contributes to cultural communities through our commitment to artists producing challenging, innovative work in diverse media, our affiliation with other organizations, and the public interest we generate in contemporary art."
Owner - Land: I.E. Artspeak Gallery Society
Owner – Building / Improvements: I.E. Artspeak Gallery Society
Tenant: Short Term Artist Studio Residencies
Rent/Lease/Own: Own
Address: 22 E Cordova Street, Vancouver BC, V6A 4G8
Square Footage: 356 sq/ft
Year Opened: 2016
Space/Facility Type: Residential - Market Housing, Multi-Functional
Organizational Type: Registered Not-For Profit
Primary Activity: Arts/Culture
Programs/Services Delivered: Plans for the Satellite space include an extension of the current archive/office space at the main Gallery. By moving the archive, library and publications to the Satellite venue, Artspeak will be able to open up more space for working staff and programming at the Gallery. Until that move occurs, the space is being rented on a month to month basis.
Website: http://artspeak.ca/
---

Case Study
---
Artspeak is a non-profit, artist-run centre formed in 1986. In 1999, after renting the space for two years, the organization purchased their first 828 sq/ft property at 233 Carrall Street to serve as the Artspeak Gallery and office. With the stewardship of a visionary Board of Directors, Artspeak's property acquisition provided long term security of tenure for the organization—at a time when few cultural groups either considered it necessary or had the means to undertake such a move. In 2016, Artspeak purchased a second 356 sq/ft satellite space across the street from the main Gallery at 22 East Cordova Ave. Leveraging its first property and using a well-researched and documented decision-making process, the organization was able for a second time to strategically navigate Vancouver's challenging real estate market. Artspeak's Board, Facility Committee, Advisory members and staff have consistently nurtured an organizational culture of thoughtful, considered processes and progressively engaged in the dialogue on 'real estate for community'. Artspeak's ownership of not one but two cultural spaces, is a testament to its commitment and success.
---
In 1986, when Artspeak was first founded, its vision was to create a unique, interdisciplinary community of visual artists, writers, and critics. Few cultural facilities were owned by non-profits—a reflection of limited supply, high cost of acquisition and a strong focus on programming. Although Artspeak did not originally set out to own its spaces, the Artspeak community, initiated by curator Cate Rimmer, artist Keith Higgins, and writer Jeff Derksen, and the broader artist run centre movement in Vancouver, were and continue to be catalysts in the debate over community space and development. Artspeak originally emerged as a small gallery space from within the offices of the Kootenay School of Writing (KSW) on the 1000 block of West Broadway. Venturing out from KSW in 1986 to offices at 300 block West Hastings and then finally to its current location on Carrall Street, the 1999 purchase permitted them to move to an open-concept layout with street-level accessibility that aided the organization in strengthening its mandate and programmatic reach.
Exterior, Julian Hou, Milman Parry's Waiting Room Rhapsody, 2017
Photo Credit: Blaine Campbell
With a successfully operating Gallery in place, Artspeak focused on stabilizing finances and paying off the Gallery mortgage, setting its sights on a possible second space to accommodate the growing Artspeak functions. All possibilities were examined, noting that the 828 sq/ft Gallery was a small space from which to deliver all of Artspeak's activities.
In 2016, Artspeak expanded its space by purchasing a second location, referred to as the 'Satellite' space. The Satellite space is intended for relocation of the archive and special collections and for artist studio programs. The move of the archive and special collections will allow for renovation and expansion of the Gallery's exhibition and office space.
Exterior – Artspeak Satellite
Photo Credit: Josh Bath, Keller Williams Results Realty
"A long line of dedicated board, staff, members, and donors allowed Artspeak to make mortgage payments of $10,000 and $20,000 in 2007 and 2013, respectively, and a final gift of $20,000 from Geoffrey Farmer... [made] Artspeak mortgage free after sixteen years of ownership. Although it is meaningful for this contribution to come from a [Board] past-president, it [was] even more of an honour for Artspeak to receive this gift from an artist, [underlying] the importance of the work, and the shared investment in the future of Artspeak and all artist-run centres." Amy Nugent – former President of the Board of Directors, Artspeak

Artspeak has occupied its current space in the historic Bodega Studios Building on Carrall Street, since 1996[1]. In 1999, the space in Bodega Studios came available for sale. At $178,000, Artspeak felt the purchase of the space was realistic, and with assistance from grants from the Vancouver Foundation, City of Vancouver, and three people associated with Artspeak who put up personal collateral for signing the mortgage, the purchase was completed. A seriously decayed storefront was replaced and the gallery and office space improved[2]. Mike Banwell, retired instructor from the Emily Carr Institute of Art and Design, project managed the Heritage building specialized renovation.[3]
"[When] the Community Congress for Economic Change Credit Union (CCEC) asked for people associated with Artspeak to co-sign the mortgage for its first term, Cornelia Wyngaarden, Michael Banwell and myself agreed to do so. Keith Higgins, President of the Board at the time—was an amazing leader throughout this period. The entire board participated fully, and it would not have happened without their support. Kathleen Ritter, as exhibitions coordinator, [also] took on a greater role during the process." Amy Nugent – former Executive Director, former President of the Board of Directors, Artspeak

Leadership by community members (Board, Committee and Advisory) and staff has been key to moving Artspeak forward in its acquisition of space in Vancouver. The people who made the difference included an Advisory Group, a Facilities Committee and the Artspeak Board. The Advisory Group was comprised of: Elvy Del Bianco (Vancity Credit Union), Liz Magor (Artist/Writer), Bonnie Foley-Wong (Pique Ventures), and Martha Burton (Renewal Partnership), with additional consultation from Robert Brown (Catalyst Community Developments Society)[4]. The Facilities Committee was comprised of Jamie Hilder, Annabel Vaughan, Jonah Grey, Amy Nugent with support and advice from former Executive Director Kim Nguyen and current Associate Director, Erik Hood.
"I've admired the slow and steady approach of the Board—drawing on third parties and the advice of community members [in exploring and pursuing new spaces]."

Bopha Chhay – Executive Director, Artspeak
---
The steps to realizing Artspeak Gallery and the new Satellite space are numerous and well-documented.

In 2010, with the main Gallery well established, plans to explore the best means for expanding were underway. At the time, the options being considered included co-locating in a new, larger facility with other groups. Working with Scott Hughes of CapacityBuild Consulting to learn the language of real estate, and to begin understanding/considering models of ownership and funding, the Board delved into cash flow, relocation, co-location, independent ownership, co-ownership, head-tenancy, business planning, etc.
"At the time of the initial real estate evaluation work [for the Satellite space], the Board of Artspeak strongly considered engaging with a number of aligned arts organizations in a new, larger facility as co-occupants of the building."

Erik Hood – Associate Director, Artspeak

In 2012, Artspeak was able to further engage CapacityBuild with a $5,000 grant from Vancity Credit Union—this time to prepare documents such as a feasibility report, a business plan and a research paper on the use of Community Bonds as a financing tool.[5]
Artspeak created a "…. Facilities Committee, a Facilities Advisory Committee and started building simple criteria and their own concept plans. When [we] realized that no one was going to sell in [the] Bodega [area, where the Gallery was located], we had to begin the process of looking elsewhere given budget and the timeframe of grant money. After looking all over the Lower Mainland for a space, we decided to stay and embark on a new impossible—the purchase of a second unit in Gastown with $150,000 secured from the City of Vancouver–Cultural Infrastructure Grant (CIG) and $17,000 from BC Arts Council."[6] "A great partnership with the City of Vancouver enabled a quick decision on the purchase–Jacquie Gijssen, former Senior Cultural Planner, helped get the CIG funds ready."[7]
Artspeak was able to use its existing collateral in the current space plus the grants of $167,000 to leverage a $178,000 mortgage from CCEC Credit Union.

Installation view, Julian Hou, Milman Parry's Waiting Room Rhapsody, 2017
Photo Credit: Blaine Campbell
Artspeak Gallery – Timeline
Concept/Idea: 1986
Move-In: 1996
Purchase and Signed Mortgage: 1999
Construction/Renovation: 2000
Completed Mortgage: 2015
Artspeak Satellite Space – Timeline
Feasibility: 2012
Business Plan: 2016
Purchase and Signed Mortgage: 2016
Construction/Renovation: 2018
Move-In: 2018
"Vancouver Foundation was the first agency to support the [1999 Gallery initiative]; the City of Vancouver came on next, with an additional small contribution from Gaming. This investment formed the down payment on the space [Artspeak Gallery]. Artspeak approached the Community Congress for Economic Change Credit Union (CCEC) for a mortgage. [Fortunately], there was a precedent—Grunt Gallery had taken out a mortgage from CCEC previously to purchase their space, and of course Glenn Alteen [Executive Director of the Grunt Gallery] lent advice."Amy Nugent – former President of the Board of Directors, Artspeak

Artspeak Gallery
Revenue:
$25,000 - Vancouver Foundation
$22,000 - Geoffrey Farmer donation[8]
$20,000 - City of Vancouver
$15,000 – Community Gaming Grants, Province of BC
$106,600 – Mortgage - Community Congress for Economic Change Credit Union
$188,600 - Total Revenue
Expenses:
$178,000 – Property
$10,600 – Electrical, Floor, Office Renovations
$188,600 - Total Expenses
Artspeak Satellite
Revenue:
$178,000 – Mortgage - Community Congress for Economic Change Credit Union
$150,000 – Cultural Infrastructure Grant, City of Vancouver
$17,000 – BC Arts Council
$6,000 – BC Arts Council, Special Projects Grant
$351,000 – Total Revenue
Expenses:
$345,000 – Property
$6,000 – Renovations
$351,000 – Total

Expenses
---
Artspeak is now an operationally stable organization. With a new real estate asset in place and completion of the mortgage on the first Gallery space, Artspeak is in a position to focus efforts on programming the vision and mission of both spaces. While Artspeak is not in the business of making money from real estate, the calculated, determined steps taken to secure these spaces will bode well for the organization for years to come.
Artspeak Gallery is a nimble space that can be used to support the particular ways artists develop projects. Combined, the two spaces are closer to meeting the specific needs, desires and practices of Artspeak and its community. With the support of the Facilities Committee and Board ensuring staff can implement operational plans, the aim to tap into the fullest potential of both spaces is real.

Interior – Artspeak Satellite
Photo Credit: I.E. Artspeak Gallery Society

"[Artspeak] has a duty to provide great spaces by keeping scale in mind. [This idea of mindfulness about scale and size] should personify social purpose real estate."

Amy Nugent – former President of the Board of Directors, Artspeak
While the Satellite space is running an insignificant deficit (until the space begins to be fully realized), it was never intended to be a revenue stream. Currently, it is rented on a month to month basis, which helps to service the mortgage. Eventually Artspeak will begin renovations and turn the Satellite into a semi-formal workshop space the 'Studio for Emerging Writers' and archive/special collections space.
"[Owning the Gallery] gave us the ability to plan into the future without being [so] affected by Vancouver real estate craziness and venue insecurity—allowing the organization to put the risk where it belongs: into the programming. Owning the Gallery gave us a number of administrative advantages such as qualifying for lines of credit in order to balance out cash flow over the year. But aside from the boring stuff, we tried to keep the needs of the art scene of the future in mind. It created an asset for the community, and the community can direct its impact by becoming involved as Board members and members at large." Amy Nugent – former President of the Board of Directors, Artspeak
It is rare for cultural groups to own their own space. This anomaly is not lost on Artspeak staff, who are the beneficiaries of a history of people who worked to create a permanent space for the artist run centre. As Amy Nugent, former President of the Board of Directors, explains it, "the trajectory of people at Artspeak [that have been] administratively savvy", worked to create a stable space, maintaining records and information that served the transfer of knowledge over three decades. It is important to acknowledge that there have been only five directors in the history of Artspeak, all women, who "cultivated a thoughtful space and a carried interest in the acknowledgement of past and the neighbourhood."[9]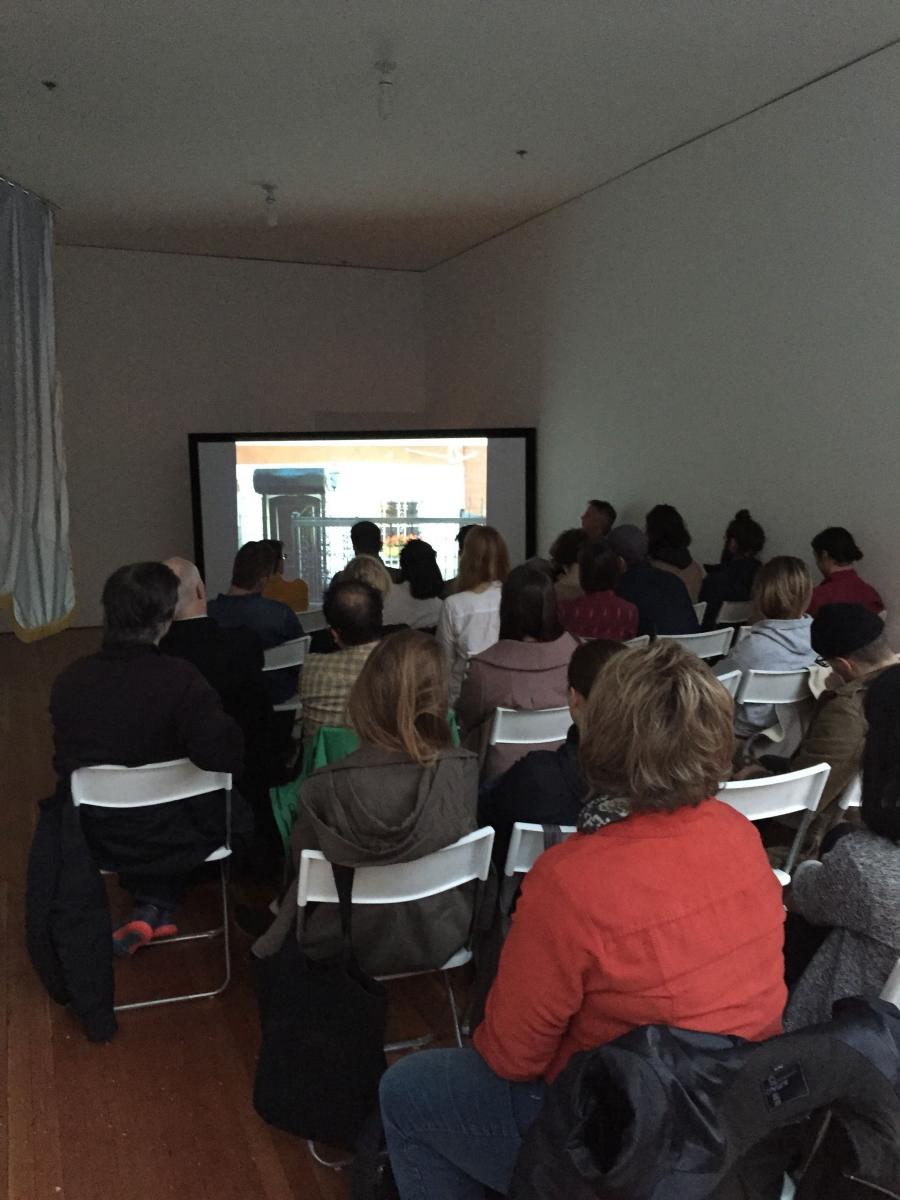 "The written journey of Artspeak through documentation coupled with two physical assets allows current staff to make compelling applications for grants, drawing on the rich experience of past Boards and Committees, in turn empowering current staff and Board to self-determine the future of Artspeak." Amy Nugent – former President of the Board of Directors, Artspeak

Photo 3 - Artist talk by Invernomuto, 2015
Photo Credit: I.E. Artspeak Gallery Society
© 2018 Social Purpose Real Estate Collaborative. Portions of this Case Study may be reproduced for research and educational purposes. Please credit: "Social Purpose Real Estate Collaborative www.socialpurposerealestate.net"
SPRE Case Study Interviewees

Bopha Chhay - Executive Director, Artspeak. Interviewed: September 14, 2017
Erik Hood - Associate Director, Artspeak. Interviewed: September 14, 2017
Amy Nugent -

former President of the Board of Directors, Artspeak. Interviewed: September 26, 2017
---
Artspeak Mandate and Values (2017). Document shared by Erik Hood and Bopha Chhay.
Hood, Erik (2016). Artspeak: Past/Present/Future. Advisory Introduction document.
Hughes, Scott (2013). Community Bonds: A Non-Profit Financing Tool. CapacityBuild Consulting.

https://www.socialpurposerealestate.net/sites/default/files/resource_file/Community-

Bonds-White-Paper-final-Jan-2013.pdf
Nugent, Amy (2017). Artspeak Real Estate Story Presentation. Demystifying Real Estate for Non-

Profits and Social Enterprises. Social Purpose Real Estate Collaborative Event. February

23, 2017.

---
FOOTNOTES
1, 2, 3, 4, 6 Nugent, Amy (2017) Artspeak Real Estate Story presentation. Demystifying Real Estate for Non-Profits and Social Enterprises. Social Purpose Real Estate Colloborative Event. February 23, 2017.
5. Hughes, Scott (2013). Community Bonds: A Non-Profit Financing Tool. CapacityBuild Consulting. https://www.socialpurposerealestate.net/sites/default/files/resource_file/community-bonds-white-paper-final-jan-2013.pdf
7. Nugent, Amy (2017). Former President of the Board of Directors. Artspeak. SPRE Case Study Interviewee. The timing of the 2016 Cultural Infastructure Grant funds spurred Artspeak into having the confidence in its funding/financing to make a move on acquiring the Satellite space.
8. In collaboration with Catriona Jeffries Gallery
9. Nugent, Amy (2017). Former President of the Board of Directors. Artspeak. SPRE Case Study Interviewee